EONIQ - Mechanical Watch Workshops
The wait is over! With EONIQ mechanical watch workshops, you can experience first-hand the craft of watchmaking, and get your customized mechanical watch on the spot. We now have 4 different watchmaking workshops at our flagship store at The Mills, including Watchmaking Workshop (Video Class). Rotor Design Workshop, ALSTAR Classic-S Pad Printed Dial Workshop, and Navigator Pad Printed Dial Workshop.
And you can upgrade the Rotor Design workshop and ALSTER Classic-S Pad Printed Dial workshop with the Flame Bluing workshop, too! EONIQ Workshop has something for everyone!
Moreover, we are offering a limited workshop! It is the Pinot Blanc Couple Watches Pad Printed Dial Workshop! Come and make your appointment now =)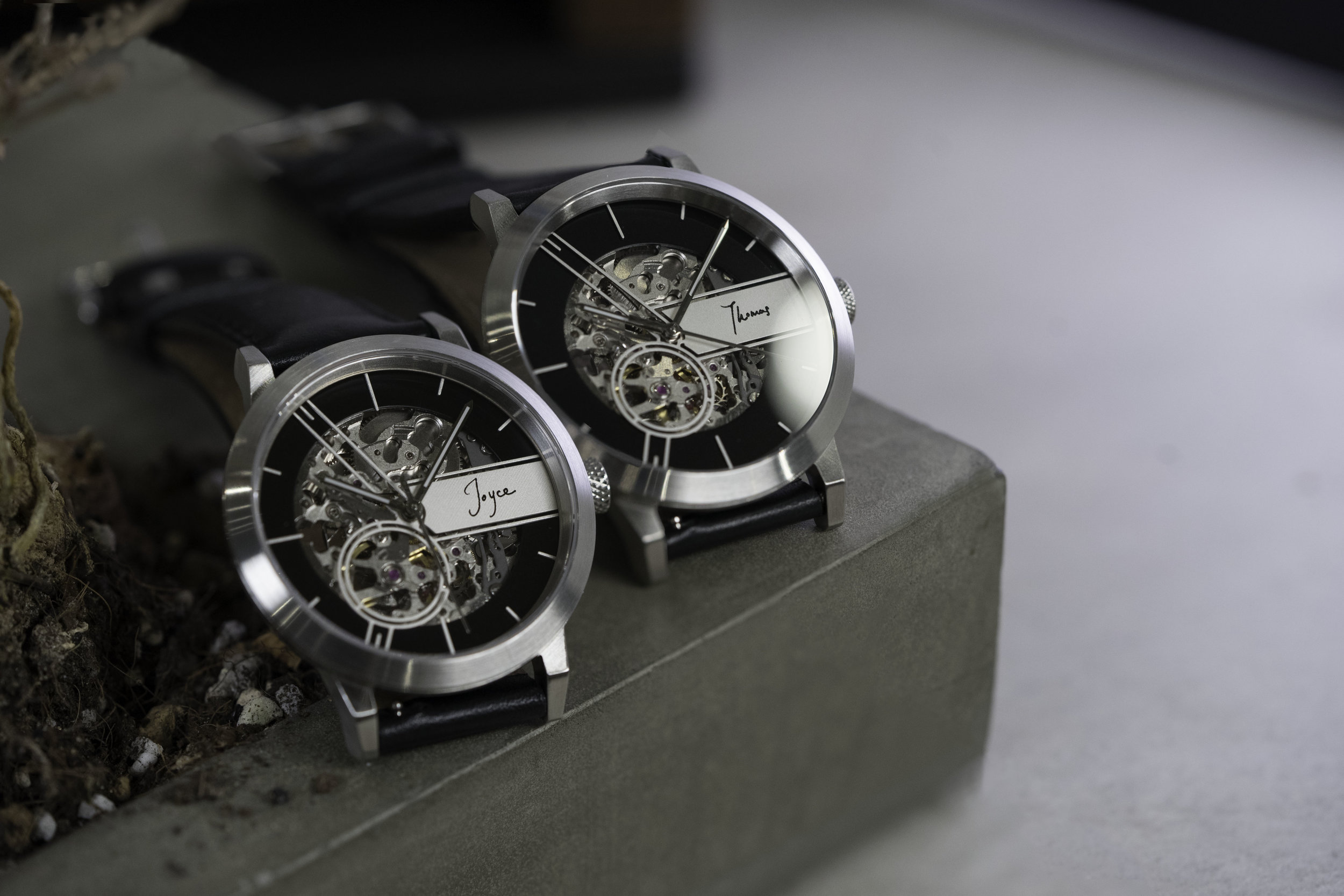 Mechanical Watchmaking Workshop (Video Class) - HK$1,600
Mechanical Watchmaking Workshop (Video Class) Details:
The Workshop includes one Merlot II series mechanical watch (With different dials, cases and movements options) , 1 quality European leather straps and 1 white watch box.
Time required:60 - 120 mins (You can adjust it and simply enjoy the watch making process)
Uniqueness:★★★★ |Participation :★★★★★

Price: HK$1,600 (Valid student card holder / 2 customers participating together can enjoy special rate HK$1,180)
Limited Workshop -
Pinot Blanc Couple Watches Pad Printed Dial Workshop
Pinot Blanc Couple Watches Pad Printed Dial Workshop Details:
With the assistance of our watchmaker, you can make your own "cliché", or image plate, and pad print your customized dial with text and image of your own choice, or even with your handwritten words. (only one cliché and one color option)
The Workshop includes a pair of Pinot Blanc Watches (2 sizes available - 42mm & 38mm), 2 quality European leather straps, 2 refined watch bag, and two-year warranty.

Time required:120 mins
Uniqueness:★★★★★ |Participation :★★★★
Rotor Design Workshop - HK$300 (for one watch)

Any text or image of your preference — hand drawn picture, your name or signature — can be engraved onto the rotor. All you need is a jpg or png file. We will then engrave your rotor, which will be assembled by you into the watch under the assistance of our specialist.
Extra time required:30 mins | Uniqueness:★★★| Participation:★★★
Workshop 01:Rotor Design Workshop - HK$2,500
Rotor Design Workshop Details:
Any text or image of your preference — hand drawn picture, your name or signature — can be engraved onto the rotor. All you need is a jpg or png file. We will then immediately engrave your rotor, which will be assembled by you into the watch under the assistance of our specialist
The Workshop includes one 35mm / 40mm ALSTER Classic-S customized mechanical watch (Pick one from M1 - F4), a quality European leather strap, assembly of rotor with personalized text and image, a refined watch bag, and two-year warranty.

Time required:60 mins
Uniqueness:★★★ |Participation :★★★
Watch Hand Flame Bluing Workshop - HK$1,240 (By reservation only)
Available for 35mm & 40mm ALSTER Classic-S series
Flame bluing is the process of using flame to turn steel watch hands blue. Different temperature and duration will cause the hands to be in a different hue. It is a traditional watchmaking craft that requires rigor and delicate senses. This workshop allows you to experience this craft first-hand, and witness its aesthetics.

Extra time required:60 mins | Uniqueness:★★★★★| Participation:★★★★★
To Learn More About Flame Bluing : https://store.eoniq.co/flameblue
Workshop 02: ALSTER Classic-S Pad Printed Dial Workshop - HK$3,740
ALSTER Classic-S Pad Printed Dial Workshop Details:
With the assistance of our watchmaker, you can make your own "cliché", or image plate, and pad print your customized dial with text and image of your own choice, or even with your handwritten words. (only one cliché and one color option)
The Workshop includes one 35mm / 40mm ALSTER Classic-S customized mechanical watch (Pick one from M1 - F4), a quality European leather strap, assembly of rotor with personalized text and image, a refined watch bag, and two-year warranty.

Time required:120 mins
Uniqueness:★★★★★ |Participation :★★★★
Rotor Design Workshop - HK$300

Any text or image of your preference — hand drawn picture, your name or signature — can be engraved onto the rotor. All you need is a jpg or png file. We will then engrave your rotor, which will be assembled by you into the watch under the assistance of our specialist.
Extra time required:30 mins | Uniqueness:★★★| Participation:★★★
Watch Hand Flame Bluing Workshop - HK$975 (By reservation only)
Available for 35mm & 40mm ALSTER Classic-S series
Flame bluing is the process of using flame to turn steel watch hands blue. Different temperature and duration will cause the hands to be in a different hue. It is a traditional watchmaking craft that requires rigor and delicate senses. This workshop allows you to experience this craft first-hand, and witness its aesthetics.

Extra time required:60 mins | Uniqueness:★★★★★| Participation:★★★★★
To Learn More About Flame Bluing : https://store.eoniq.co/flameblue
Workshop 03:Navigator Pad Printed Dial Workshop - HK$5,640
Navigator Pad Printed Dial Workshop Details:
With the assistance of our watchmaker, you can make your own "cliché", or image plate, and pad print your customized dial with text and image of your own choice, or even with your handwritten words. (1 -2 clichés and 1-2 color options)
The Workshop includes one 44mm Navigator customized mechanical watch (Pick one from A1-B3), a quality European leather strap, assembly of rotor with personalized text and image, a refined watch bag, and two-year warranty.

Time required:180 mins
Uniqueness:★★★★★ |Participation :★★★★
Rotor Design Workshop - HK$300

Any text or image of your preference — hand drawn picture, your name or signature — can be engraved onto the rotor. All you need is a jpg or png file. We will then engrave your rotor, which will be assembled by you into the watch under the assistance of our specialist.
Extra time required:30 mins | Uniqueness:★★★| Participation:★★★
Bronze case - HK$1,000
Through oxidation, bronze develops a unique patina over time. Depending on how it has been worn and the environmental condition it has gone through, the resultant patina can be radically different. The trail of time, in the most literal sense. If you would like a watch that is unique according to your personal experience, bronze case is the case for you.
Uniqueness:★★★★★
Group Booking & Corporate Training
If you and your friends (total 4 of you or more) would like to join our workshop, we can open another group booking time slot for you. Feel free to send us the booking details.

And we are also open for big group booking (15-30 people) and corporate training. Just drop us an email and we would love to know your preference and event details.

Email address: info@eoniq.co
Tel: +852 3755 4898
EONIQ Workshop Location & Contact Details:
EONIQ Flagship Store Address: G02 & 03 Mill6, The Mills, No.45 Pak Tin Par Street, Tsuen Wan, New Territories, Hong Kong
(Tsuen Wan MTR station Exit A3)
Opening Hours: 12:00pm - 9:00pm (Mon - Sun)
Email: info@eoniq.co
Telephone: +852 3755 4898
WhatsApp Service:+852 5544 7324 (WhatsApp only | Reply during office hours)
Parking Near The Mills: https://store.eoniq.co/parking-near-the-mills